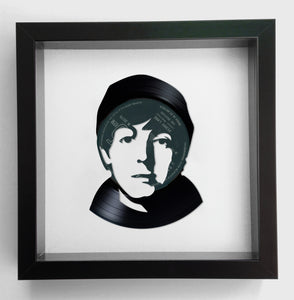 Description
Paul McCartney vinyl art cut from an original copy of The Beatles single Penny Lane. 
If you have a particular choice of single please contact me and i'll see if I can source it for you.
Mounted within a black wooden box frame and raised from a pearlescent base to compliment the label. The frames measures 25cm x 25cm (9.5 x 9.5 inches). All vinyl sourced from old, scratched or warped copies that have no collectable value or are in playable condition.

I produce similar pieces from other artists on 7 inch vinyl, so please see my other items and maybe create your own gallery of vinyl art!. I also take requests! So if it's a song that's special to you - your first dance or the music that was playing when you first met and would like an individual gift commissioned, please contact me.

These pieces are made from vintage singles hand-cut and sourced by myself. There will normally always be visible wear and tear from being played such as scuffs to the vinyl and marks to the labels. This adds to the authenticity of the piece. Now, cut into novel shapes you can now appreciate not only some of your favourite records but now as a piece of individual art. Please note vinyl style of label may change slightly depending on availability when sourcing the record.

International customers please note, delivery via airmail via the UK may take up to 15 working days