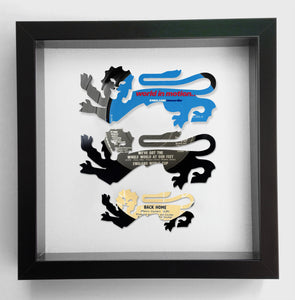 Description
Limited Edition vintage vinyl art featuring three records cut to make the design of the three lions England badge. Each song released features the England national football team at various World Cup tournaments from previous years including New Orders' World in Motion from Italia 90, Back Home from Mexico 70 and from Mexico 86 We've Got the Whole World at our Feet. Mounted within a black wooden box frame and raised from a pearlescent base. The frame measures 25cm x 25cm (10 x 10 inches).
I produce similar pieces from other artists on 7 inch vinyl, so please see my other items and maybe create your own gallery of vinyl art!. I also take requests! So if it's a song that's special to you - your first dance or the music that was playing when you first met and would like an individual gift commissioned, please contact me.
These pieces are made from vintage singles hand-cut and sourced by myself. There will normally always be visible wear and tear from being played such as scuffs to the vinyl and marks to the labels. This adds to the authenticity of the piece. Now, cut into novel shapes you can now appreciate not only some of your favourite records but now as a piece of individual art. Please note vinyl style of label may change slightly depending on availability when sourcing the record.
International customers please note, delivery via airmail via the UK may take up to 15 working days.